Elastic net bandage
Rede tubular elástica

Filet tubulaire élastique

Schlauchnetzverband

Elastisch netverband

Rete tubolare elàstica

Red tubular elástica

Elastisk nätbinda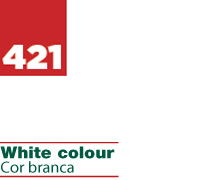 Elastic net bandages


• Dressings retention.
• Doesn't limit movements and it's very comfortable.
• With simple cuts, can be applied to the different parts of the body, even the most difficult ones to reach.
• Polyamide and polyurethane.
• Stretched length: 25m.
• Unstretched length: 7m.
• Elasticity lengthwise: Over 300%.
• Elasticity widthwise: Approx. 10 times initial width.
• Dispenser shelf box + transport carton.

| Code | Size | REF | Pcs./Sh.box | Pcs./Tr. carton |
| --- | --- | --- | --- | --- |
| 421-001 | 25m x 1,6cm | 1 | 1 | 16 |
| 421-002 | 25m x 1,8cm | 2 | 1 | 14 |
| 421-003 | 25m x 2,1cm | 3 | 1 | 8 |
| 421-004 | 25m x 2,4cm | 4 | 1 | 8 |
| 421-005 | 25m x 2,7cm | 5 | 1 | 8 |
| 421-006 | 25m x 5,5cm | 6 | 1 | 4 |
| 421-007 | 25m x 5,7cm | 7 | 1 | 4 |
| 421-008 | 25 m x 6,3 cm | 8 | 1 | 4 |